Post by tequilaman on Jul 9, 2016 12:42:45 GMT
Good day guys,
I finally got around to take some pictures of my terrain that I made for playing with friends and to do the planned Confrontation demos on. I have to admit that this is a long term project and that I'm on a small budget, also I'm sorry to say that I'm not a photo pro. I appologize for the lighting and hope you are able see what's on the pics. Let's start with some Pictures.

My portable playing mat. The black cloth is just to protect my living room table, please ignore it. The mat itself stays flexible and can be rolled up for ease of transport. Prior starting I stiched two stripes of hook-and-loop under that mate to be able to expand it in case I wanted to build another mate.
A well build heavilly inspire by the instructions from
tabletop workshop on youtube
(sorry the video is in german only).
I bought some battery tea lights and used the electronics to build these lamps. They are really cheap a pack of 2 tea lights costs me 1€. I build around 6 lamps to scatter over the table. The flickering light really spreads the mood like I hoped they would do.
I made quiet a lot of those fences that can be placed freely on the table. The material for them were gathered while I was gardening to raise a little money for universities enrollment fees. This building was also heavily inspired by the guys of
tabletop workshop over on youtube
(sorry the video is in german only). Also on the pictures are my two heaps of hay (tabletop workshop youtube instructions in german are
here
for that).
My newest terrain is a river that is large enough to cross a standard Confrontation gaming table. Because I can roll up my playing mate I managed to get a sturdy poster roll to wrap the playing mate around. The roll is hollow and can fit the river inside. For me it was important to make a single river piece, as I don't like river terrain in parts where the alignment of parts doesn't look good and while gaming river parts are starting to shift away over the table. You know what I mean or click
here
.

I also wanted to build it cheap and sturdy that's why I tried the idea of using window color as water effect. A bottle of transparent window color 80ml costs 1,25€ and on the bottle it says it is acryl based just like my miniature paints. It dries in about a day, but that depends on the thickness of the applied coat. After drying it stays flexible, I guess that is enough to prohibit cracks upon drying or transporting. I experimented a bit with different layers and the amount of blue ink to tint the window color. In the end I quiet like that there are different places where you can see parts of the river bed. As I don't wanted to waste that much playing space on the table the river is rather narrow. I tried to get the illusion that it is fast flowing and deep, to have an understandable reason that you can't cross the river by feet. Over all I'm not complettly satisfied with my river. It feels as if there is something wrong or missing with it, but I don't get it.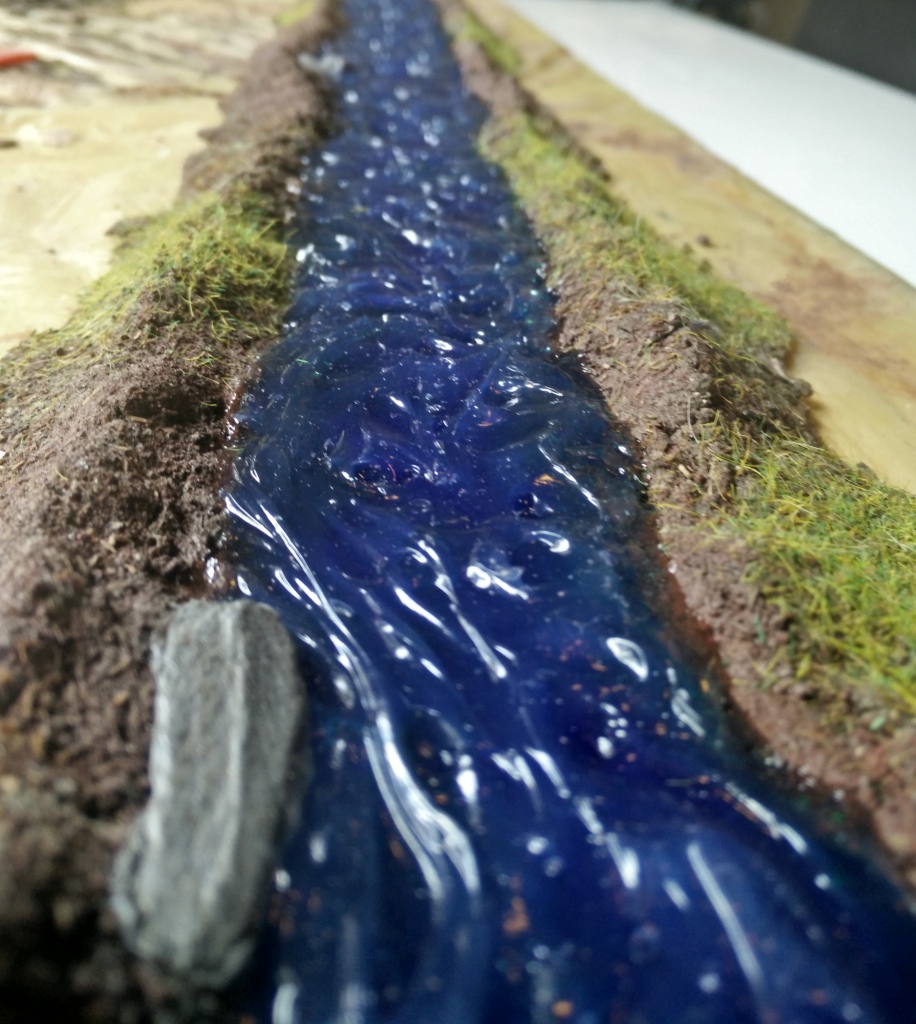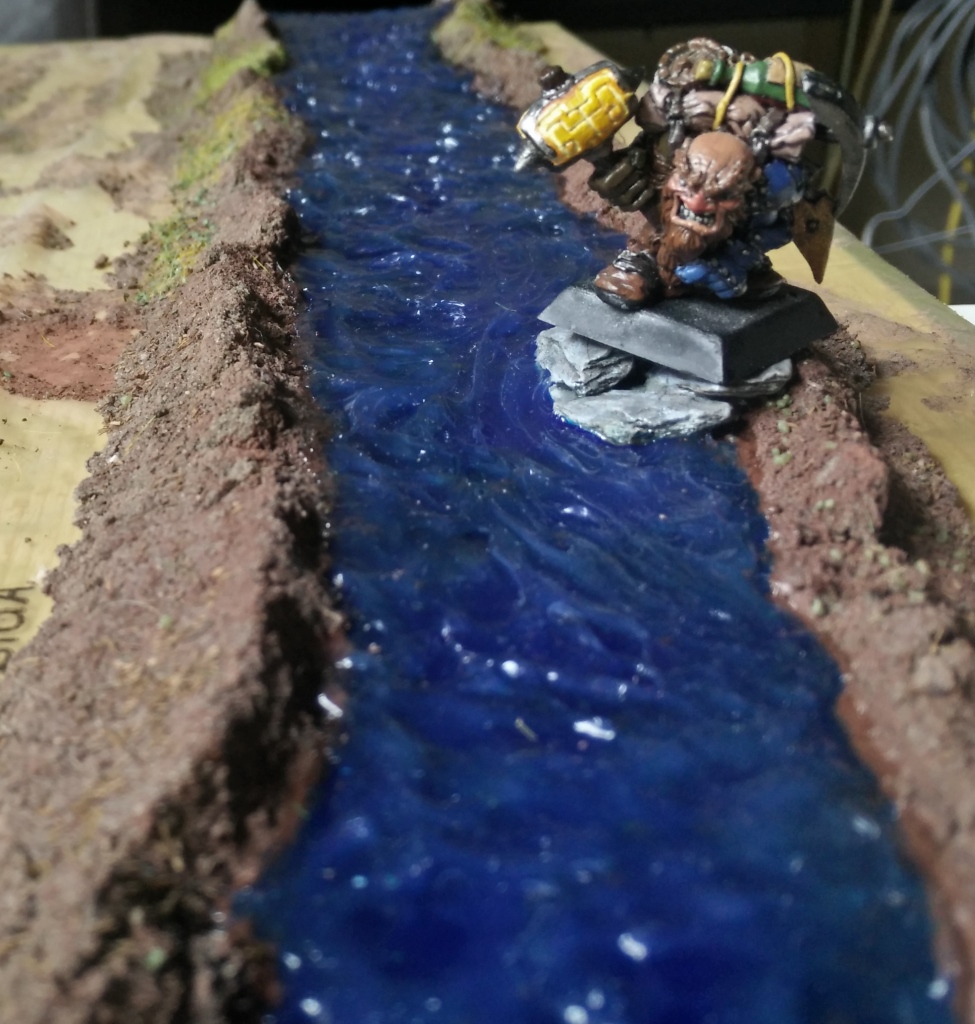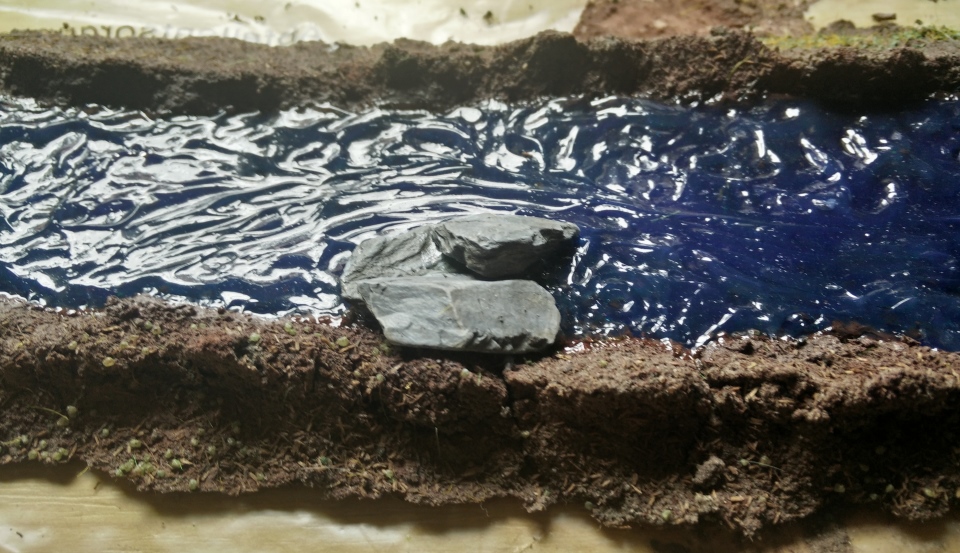 What do you guys think? How can I improve my stuff? Should I continue on the river? Whitecaps on some parts of the waves? or another "water" coat on top, maybe with another tint? Is the blue to intensive?