Post by Atreju on May 4, 2020 8:45:22 GMT
After I finished my three Bondsmen, I dived right into the jungle and made a testgame, my very first game at all, mostly for getting a feel for the rules. And I really enjoyed it, even when I "only" played alone. Here is a short report about the game. I tried to make the descriptions as a narrative, the actual rule-corresponding text is written in italics. Enjoy!
The Dact flew with slow, unhurried beats of his wings across the jungle that did not at all differed from all the other parts of the jungle he had seen today. Or yesterday, it didn't make a difference.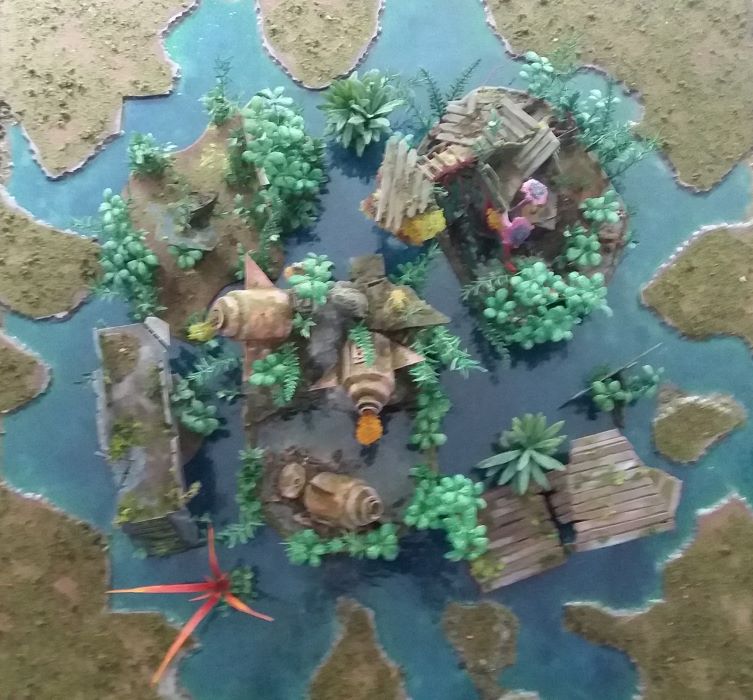 The soft murmur of a small waterfall added to the background noise of the jungle.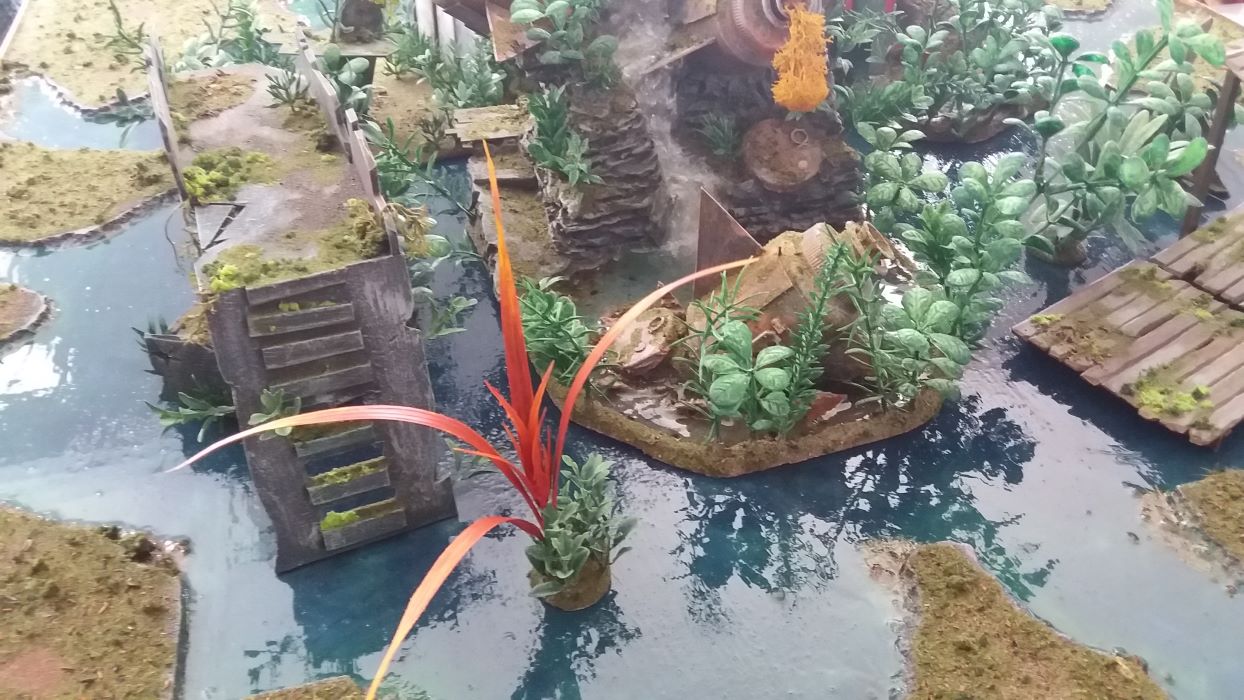 Traces from the time before the Event could be found everywhere, but the jungle took back the land piece by piece. It was the fight the relics of the Builders could not win.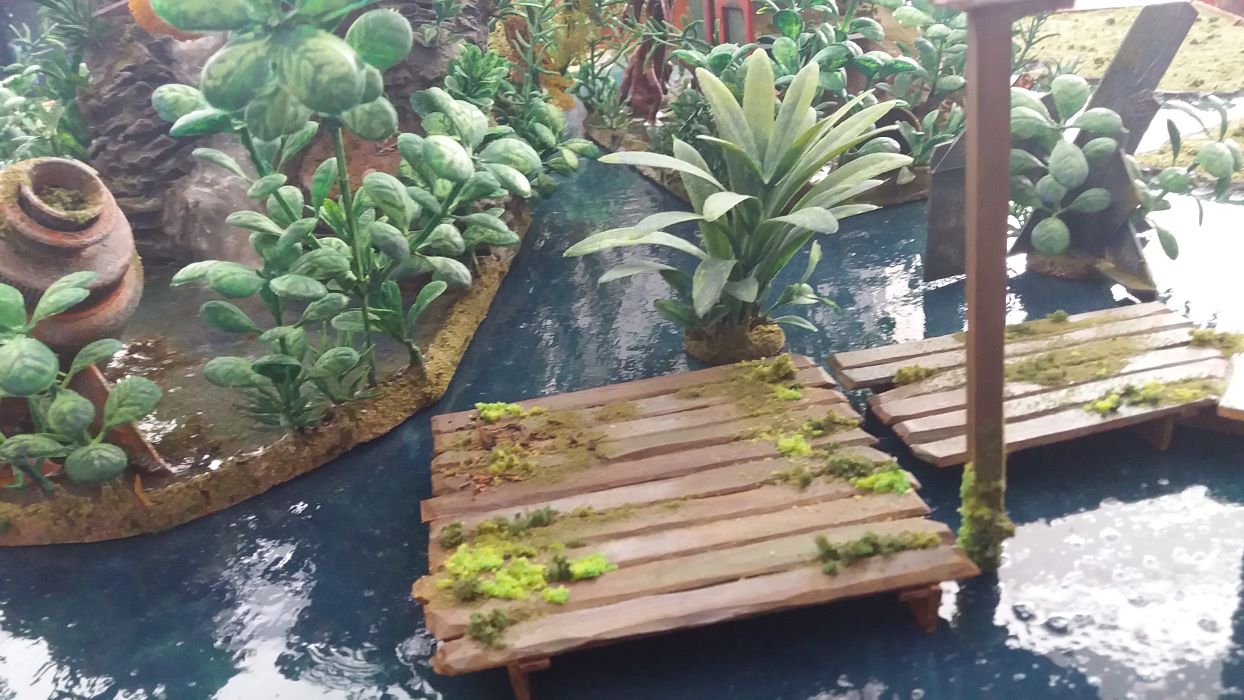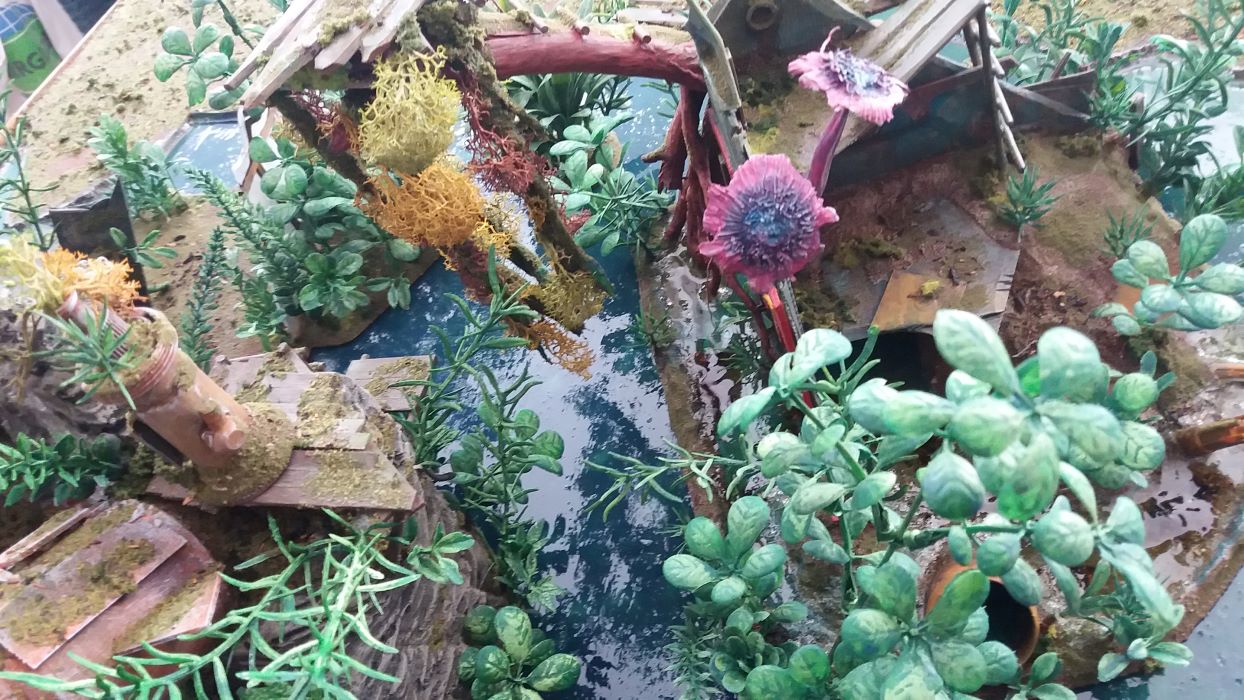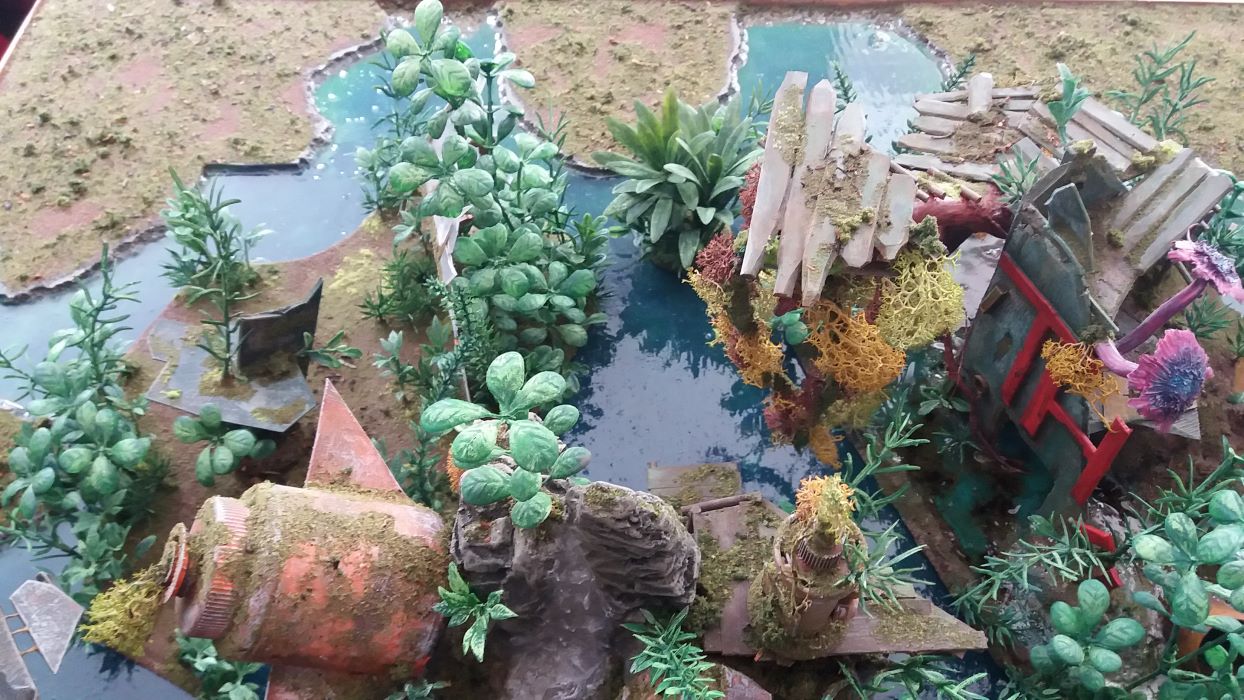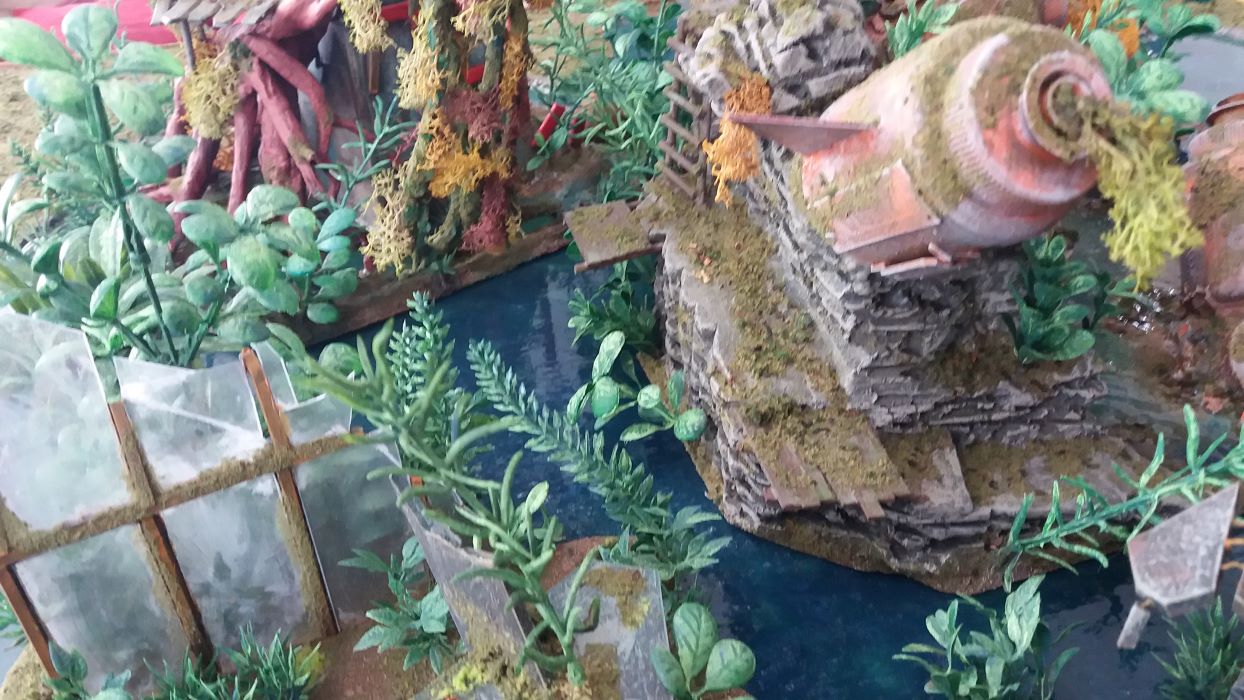 The Mission was "Attack & Defend". There is a central mission objective (on the upper platform next to the escape pod) and two more objectives can be placed by the players in a defined zone. The objectives can be activated and controlled. At the end of rounds 2, 4 and 6 the Victory Points are counted. The control of the own or the central objective gains 1 VP, control of the enemy objective 3 VP. The crews were build of 60 points:
Wayfarers
Wishbone with Urgent Orders (no Line of Sight for Commando)
Aronax
Bluewing
Effect cards: Sure footed (re-roll a movement test) and Deadly shot (ignores 1 point of armour)

Bondsmen
Limossk with Tactical Advance (if shot at Nailed it Distance, the Bondsmen get Reflexes(1))
Alaya
Jorra
Distraction (+1 armour)

Suddenly noises sounded from the thicket and the Dact saw several two-legged creatures that cleared a path for themselves. He knew he should better leave the place out of experience. As it comes, it was a wise decision, because soon the first shots ringed through the air.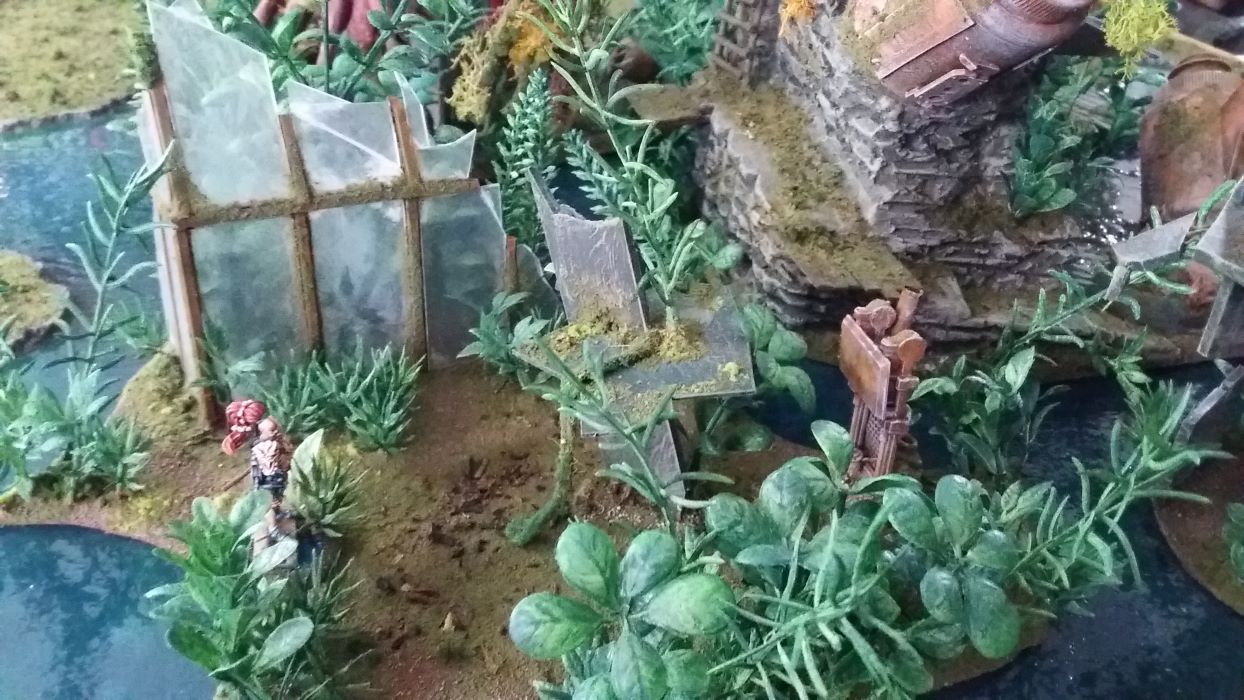 Jorra smirked as he saw his target before him. The information seemed to be true. This should be child's play!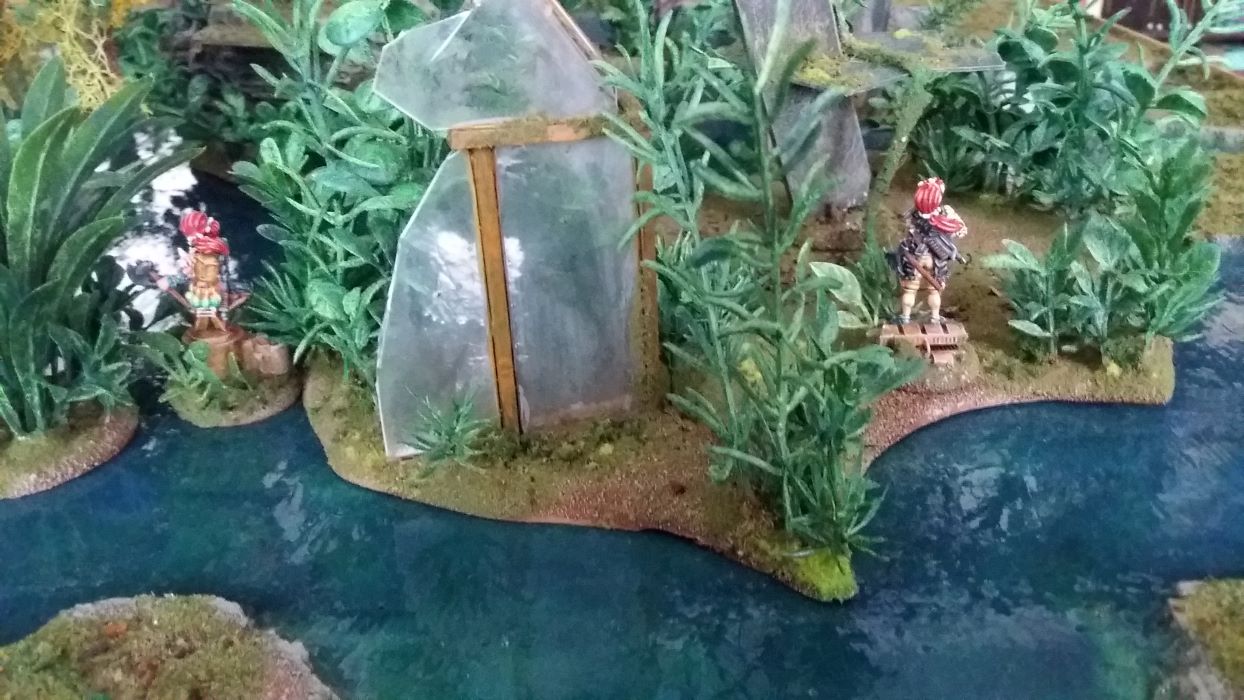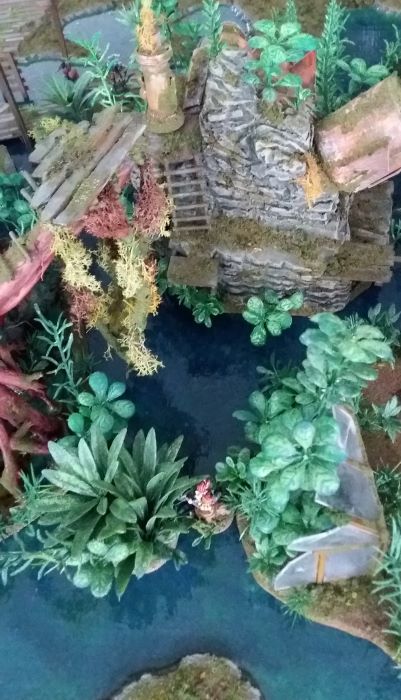 He got the easy and dry way, but his sister had to swim. But she as well saw her target right before her, on top of a cliff.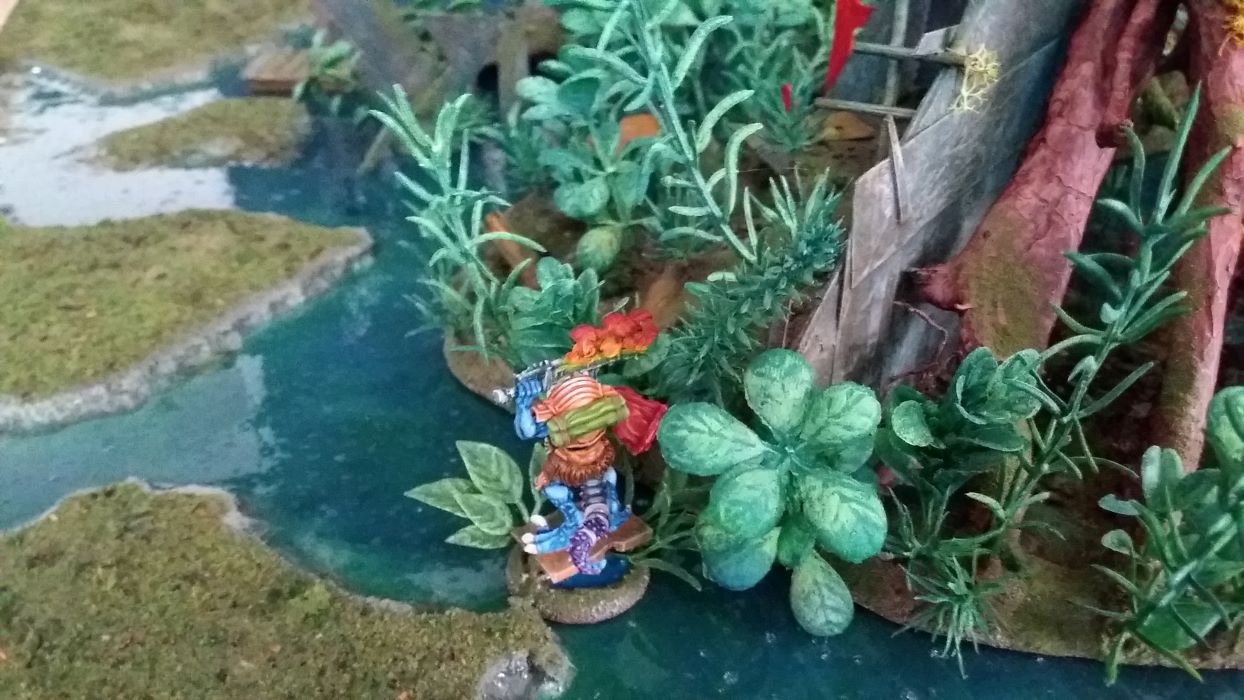 Limossk, their leader, was far away from them and passed some ruins while swimming. His target was somewhere in front of him, he could not see it yet. To be honest, it felt a bit uncomfortable, swimming that open through the water, but his chances to survive a possible enemy contact were better than the twins.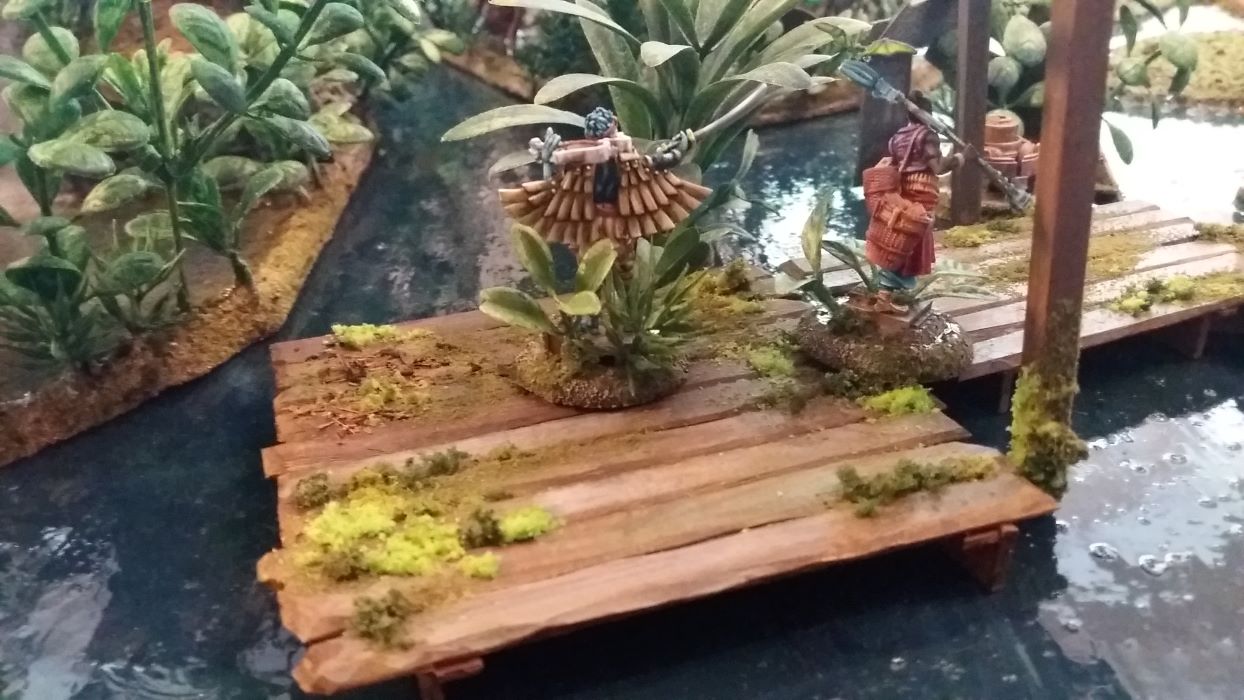 "There it is", shouted Bluewing with an excited clicking of his beak. He realized what he was doing and stopped. Wishbone had a slight smile on his face.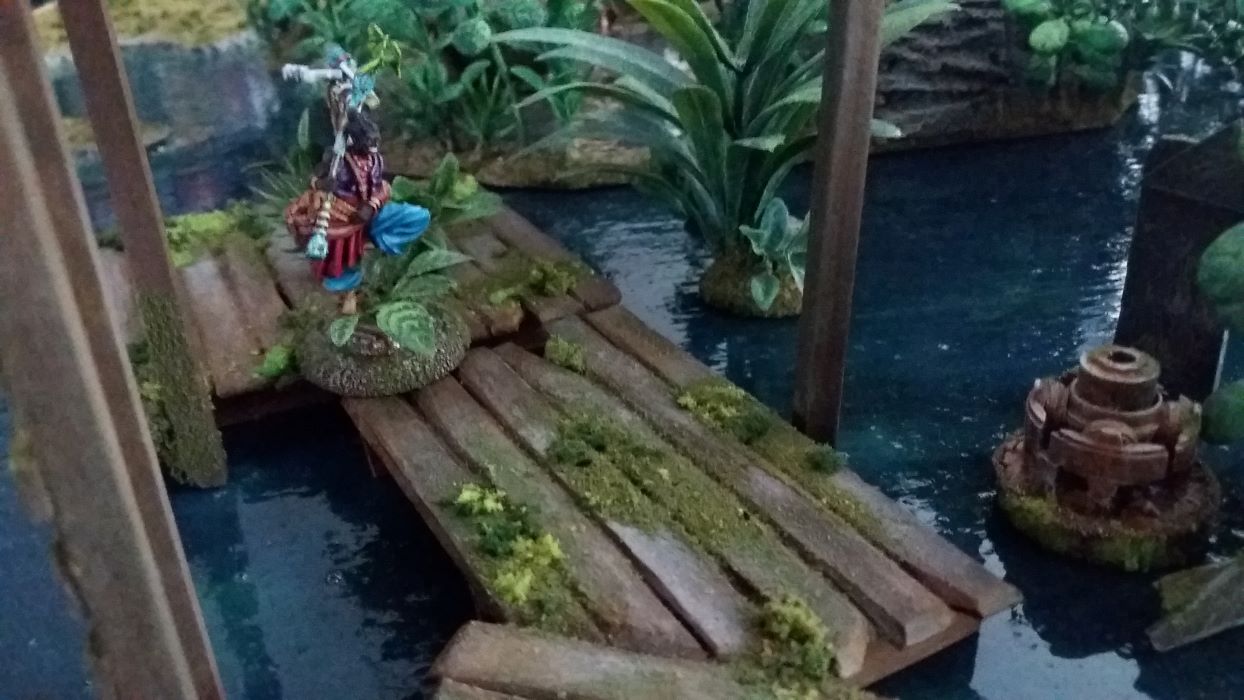 "Easy, my friend", he responded. "I guess we weren't the only people this slimy guy from that boozer in Downtown Skyton sold this secret".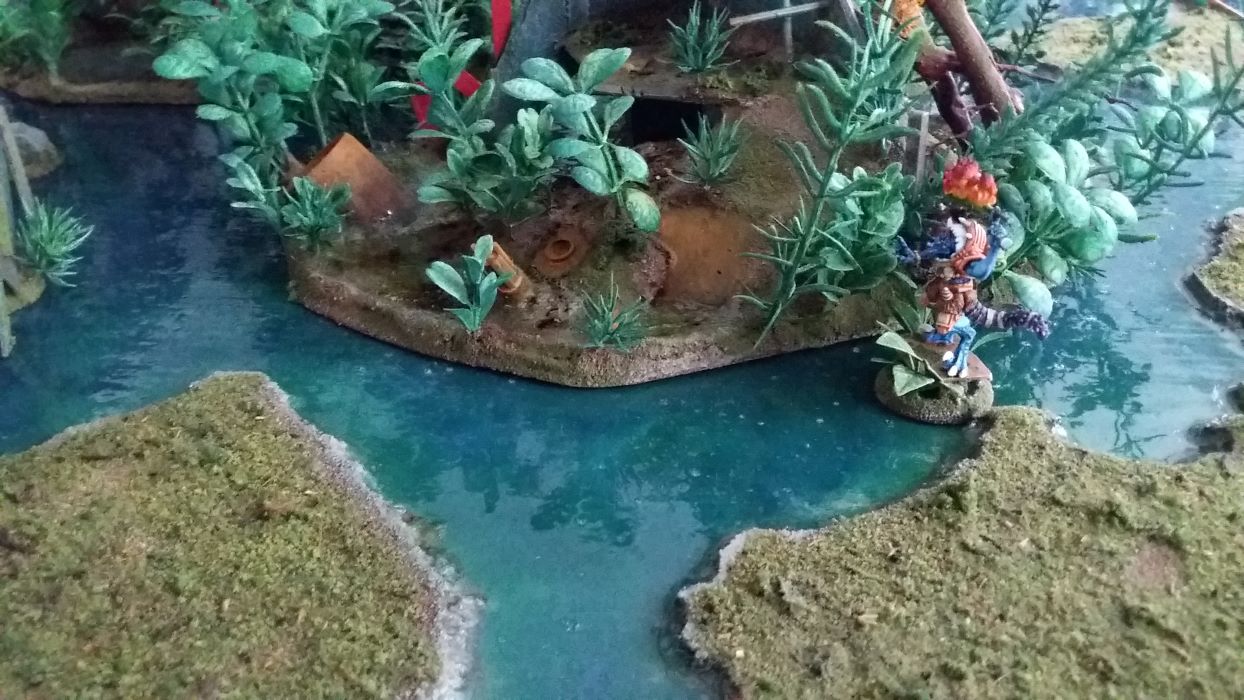 Limossk remained silent in the water as soon as he heard the voices. His instincts have been right once again, there were other people. They'll get what for, contesting the Bondsmen of their prey. A sardonic smile showed his huge teeth and he started swimming again, quivering with anticipation of the slaughter that was upon them. He aimed for his targets, both human and technical.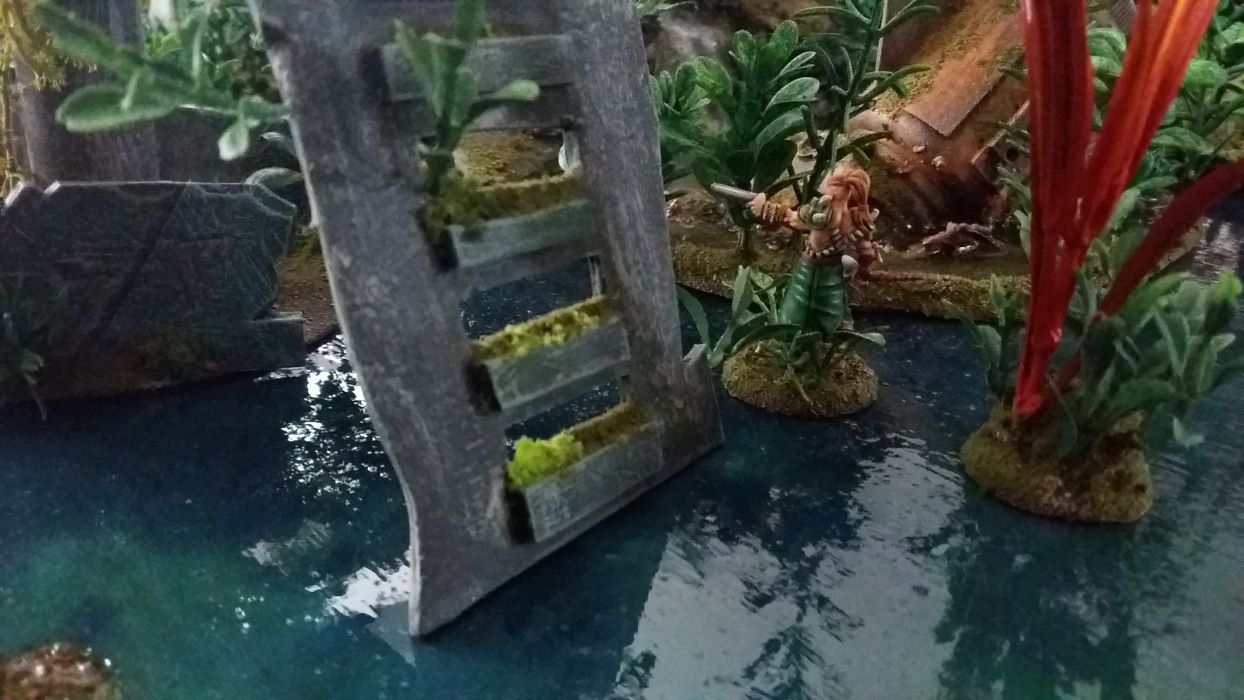 Aronax cursed at the jungle that was unexpectedly thick. He wanted to be reach way more than his current position by now. Fingers crossed this would not spoil the plan!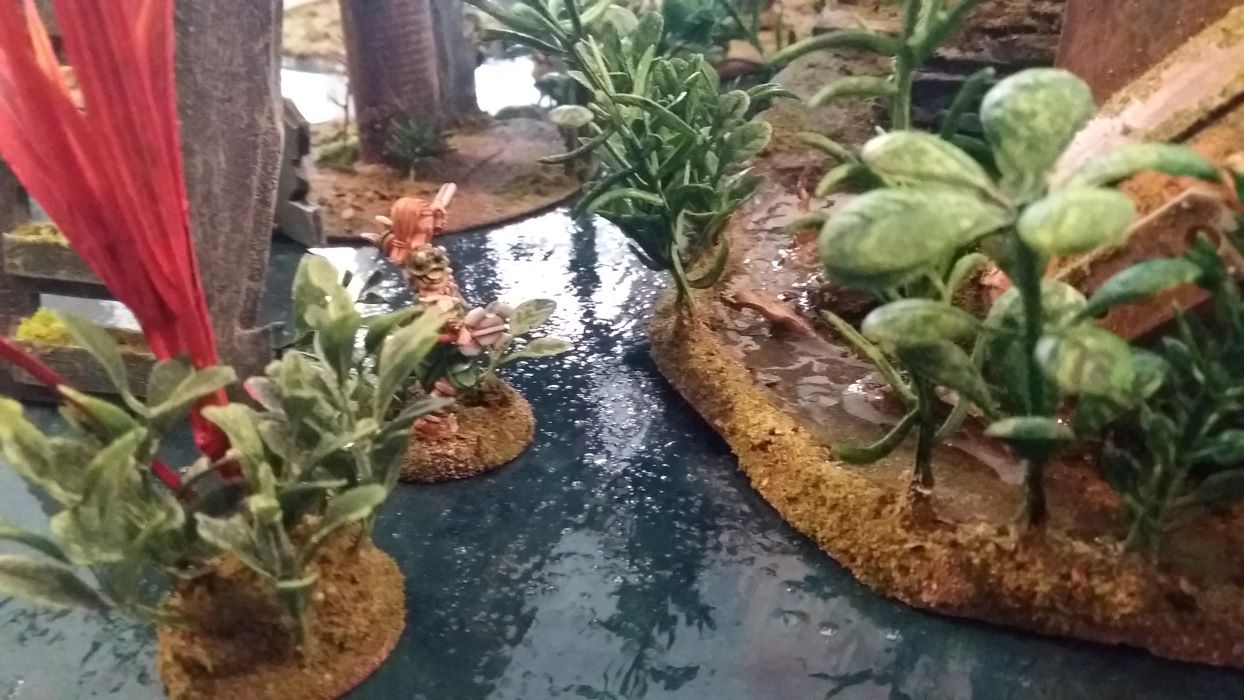 He heard Bluewing and Wishbone chattering. "Come on", he thought, "you have a job to do!"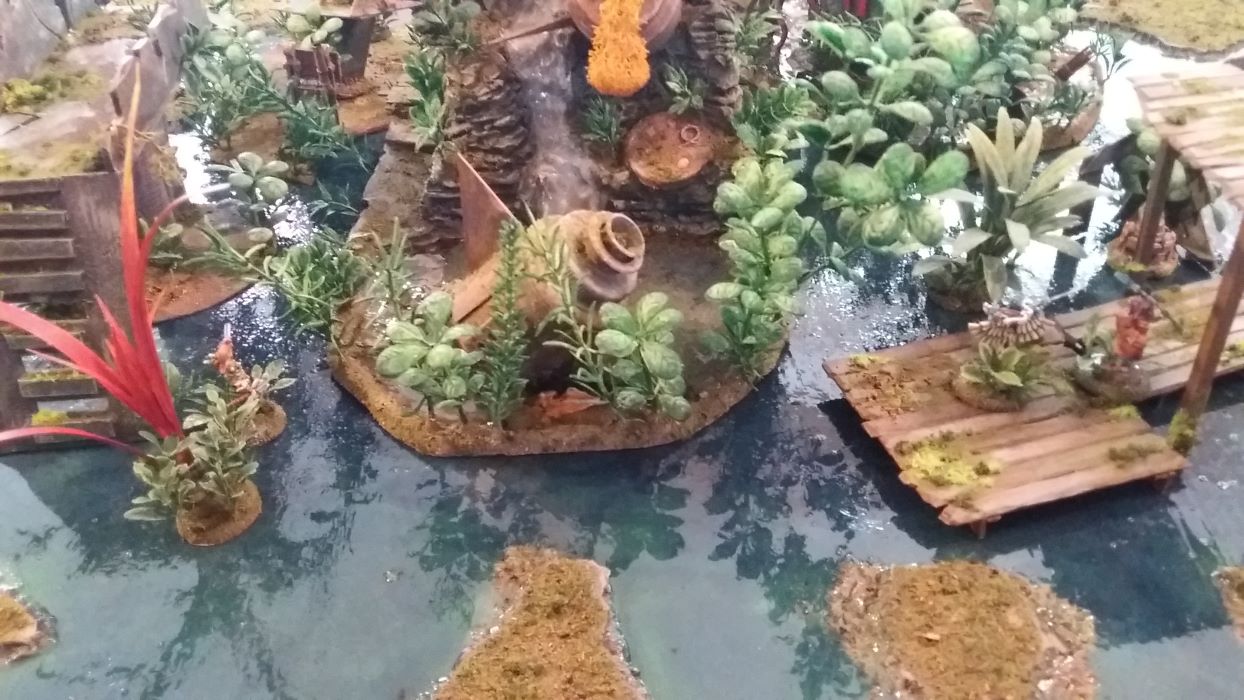 The Bondsmen won Initiative, chose a side and deployed. While Jorra and Alaya had a good access to their targets, Limossk wasn't that lucky. He had very few cover and had a long way to swim. Aronax failed with his Infiltration roll and had to start in the regular deployment zone. The Bondsmen started the first activation.
Round 1

Carefully approached Alaya the cliff. She too heard some enemies and a brief thought occurred that they might see her. But she could swim to the cliff without any problems. Then she tried to climb up the cliff out of the muddy water, but her fingers kept slipping away from the rocks.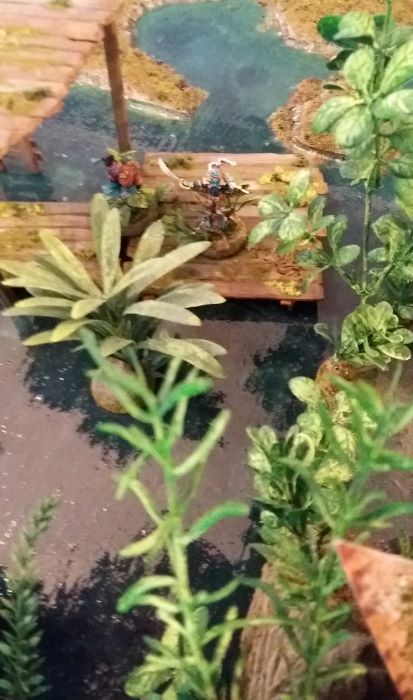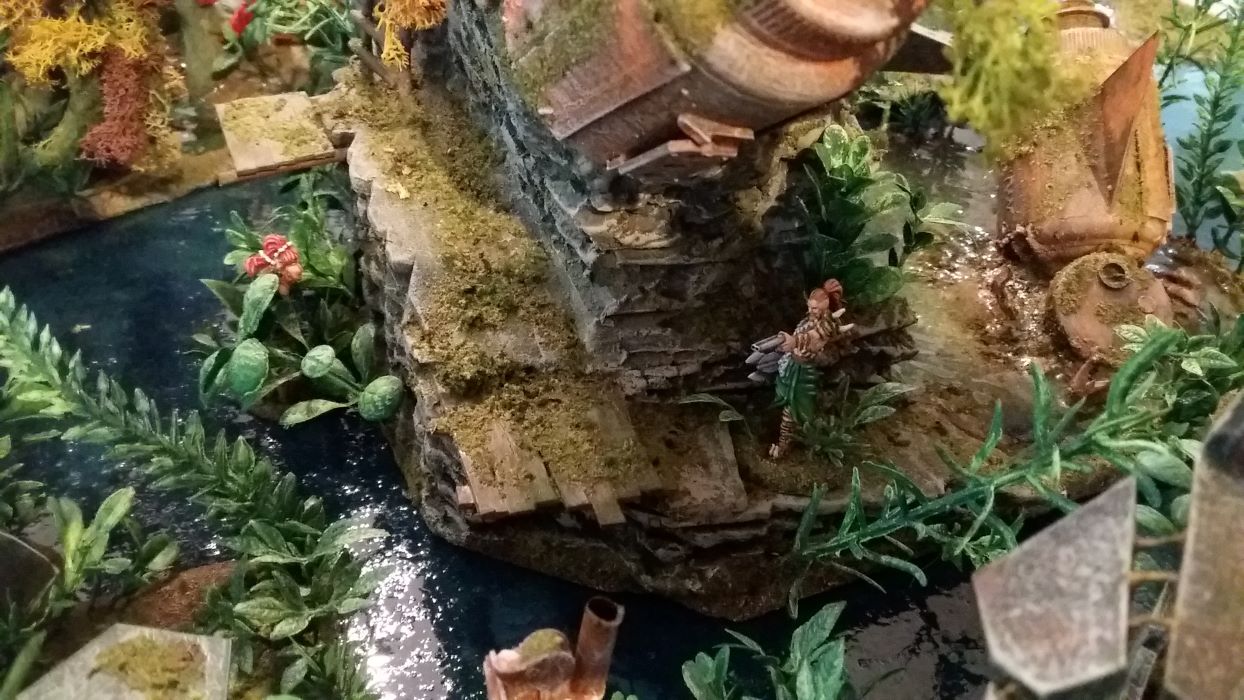 Aronax swam to something that looked like a stair. "Great, that eases my way and saves time!" He walked on carefully, which was a good call, because shortly after he spotted a Kolric warrior on his way to the target.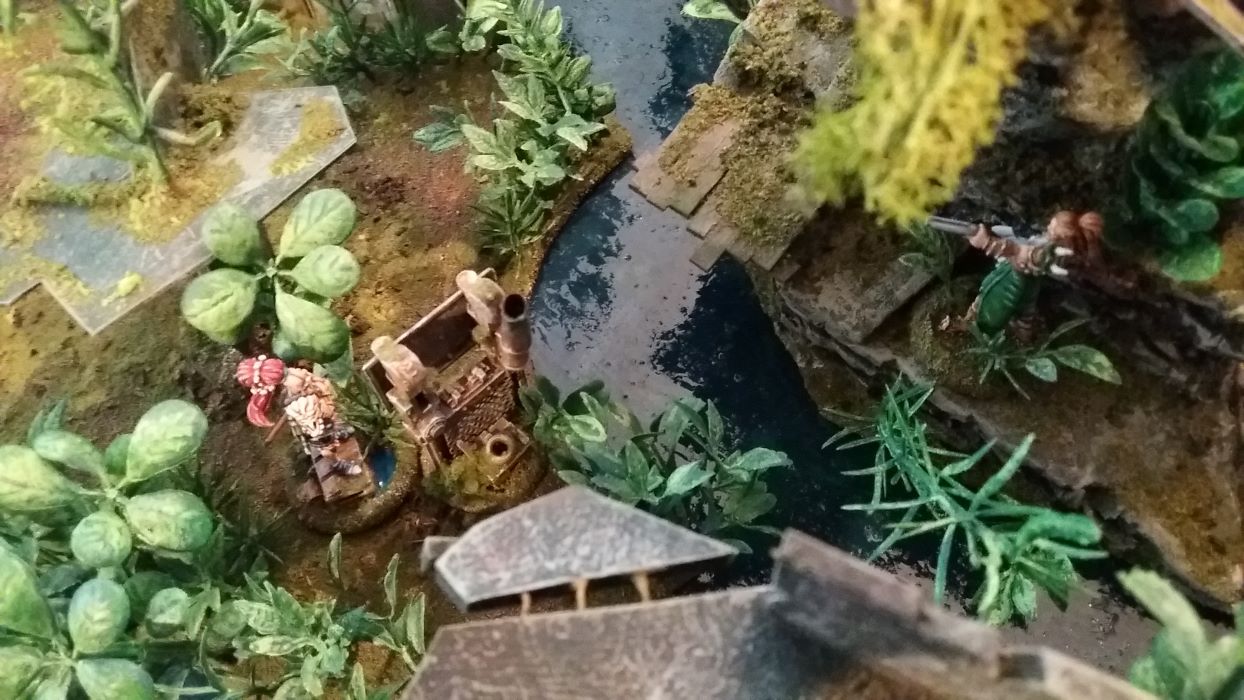 It was easy for Jorra to activate the overgrown relic. Humming a happy tune, he pushed some buttons and did not realize the danger that was lurking at the cliff right in front of him.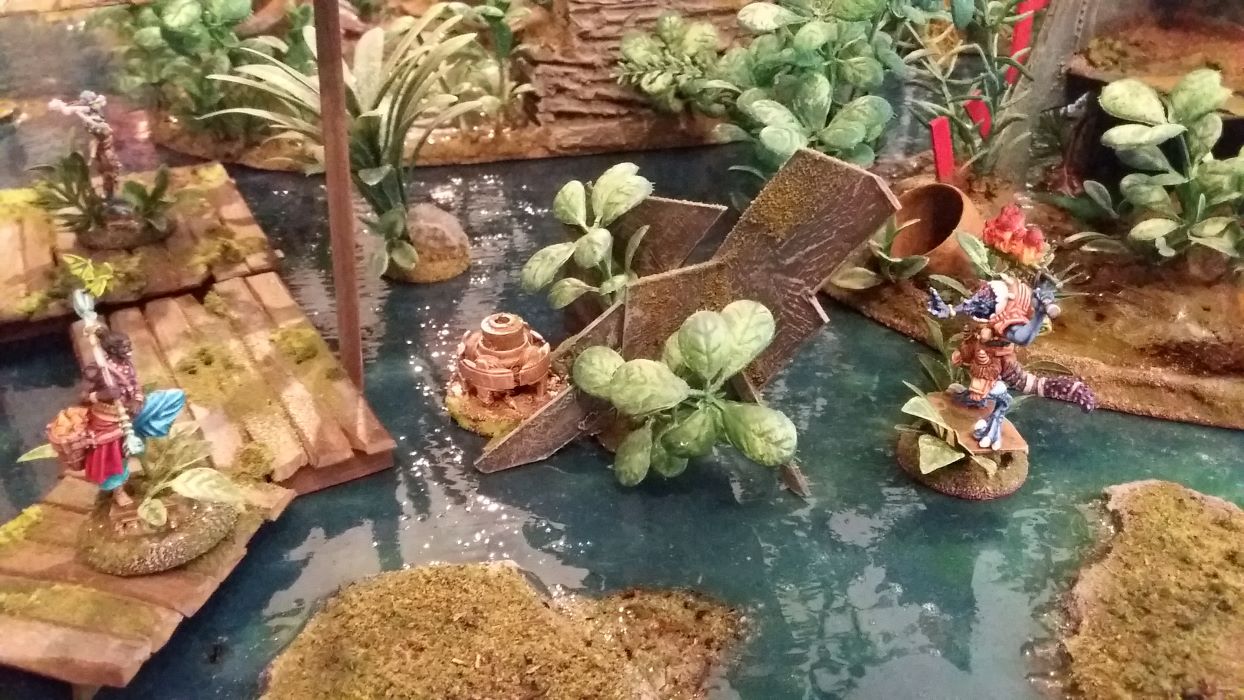 "Watch out", yelled Wishbone when he saw this giant creature approaching in the water. Apparently, Bluewing did not spotted it yet, but it came closer amazingly fast. A blue crackling ball of lightning emerged from his staff, but he missed the creature. Bluewing, alarmed by his leader, reacted swiftly and shot at the creature. He was rewarded with a furious roar.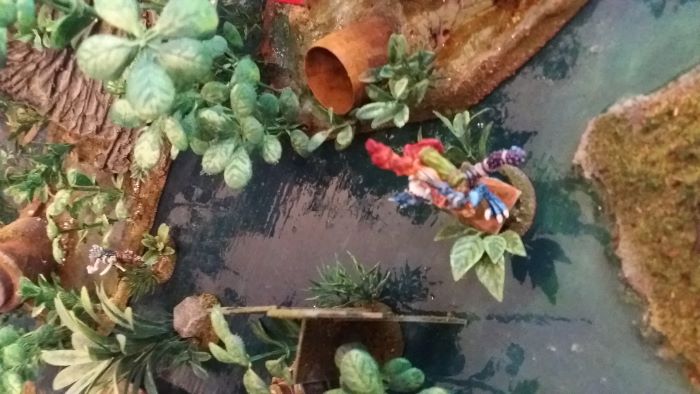 Alaya starts and swims. Although both Bluewing and Wishbone could technically shoot at her (16" away, at maximum distance), they can't see her because she is swimming. Her climb roll fails.
Aronax moves twice his short distance because both times he starts in the water.
Jorra moves and activates the objective without any problems. He had to be deployed 6" away from the target and has a movement max. of 6".
Limossk starts to swim, Wishbone reacts with shooting at him, but misses. Bluewing Nailed it with his reaction and deals 2 wounds to Limossk.
Round 2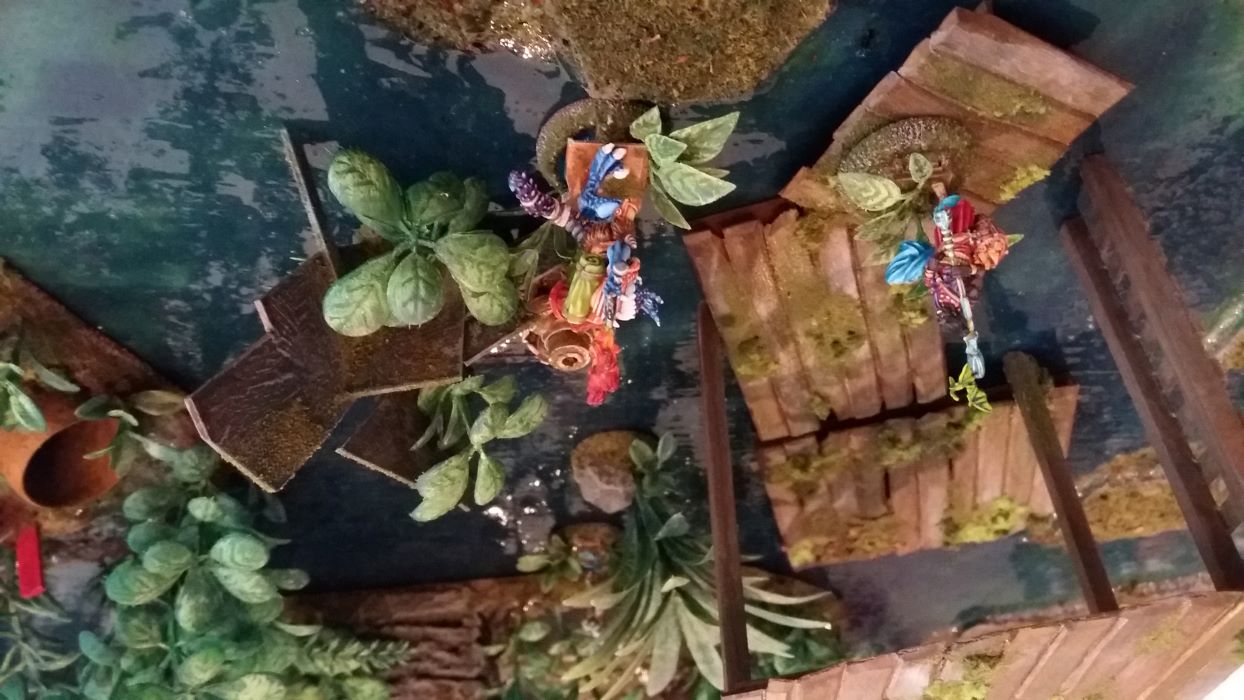 Hissing and snarling, Limossk ploughed through the water. Suddenly, several things happened at once. Another bolt hit his side and a blue cackling ball of lightning evaporated the water next to him. He charged regardless, another bolt flicked at his armour, but he didn't even realize it.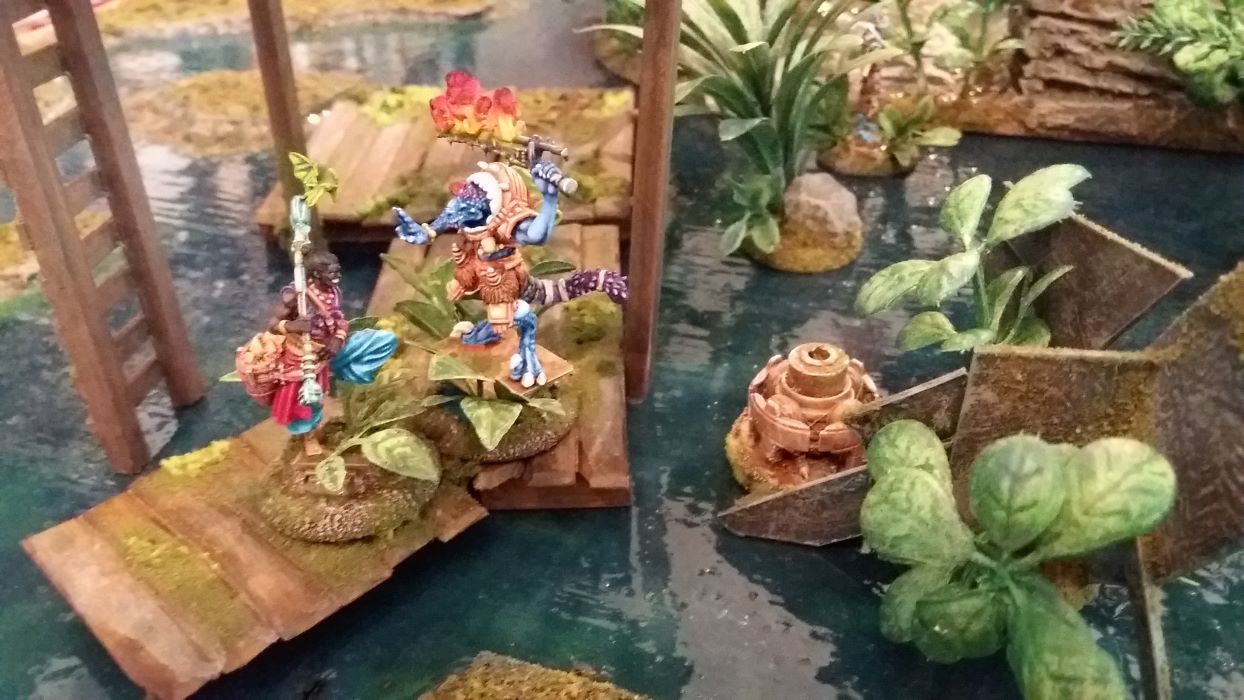 He dealt a massive stroke with his sword, the fire nozzles hissed flames while the blade cut deep into the flesh of his enemy. Victory was his, but then he saw the smile of his enemy. The next he felt was the sharp beak of a Dact, and then there was only darkness.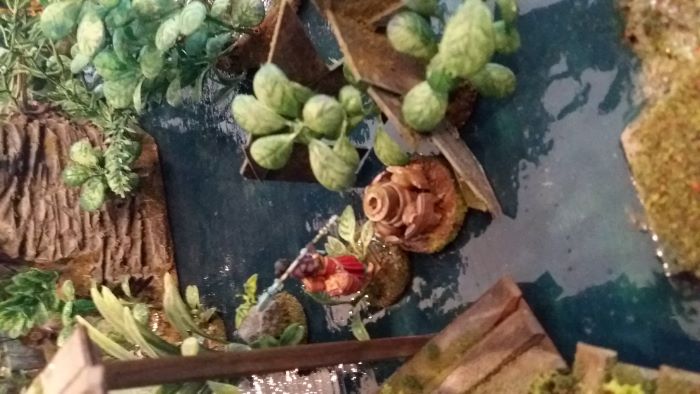 As soon as his enemy fall to the ground, Wishbone jumped into the water to extinguish the fire that started to crawl over him. When he came back up again with a snort, he smiled at Bobo, his loyal Dact, who killed his Limossk.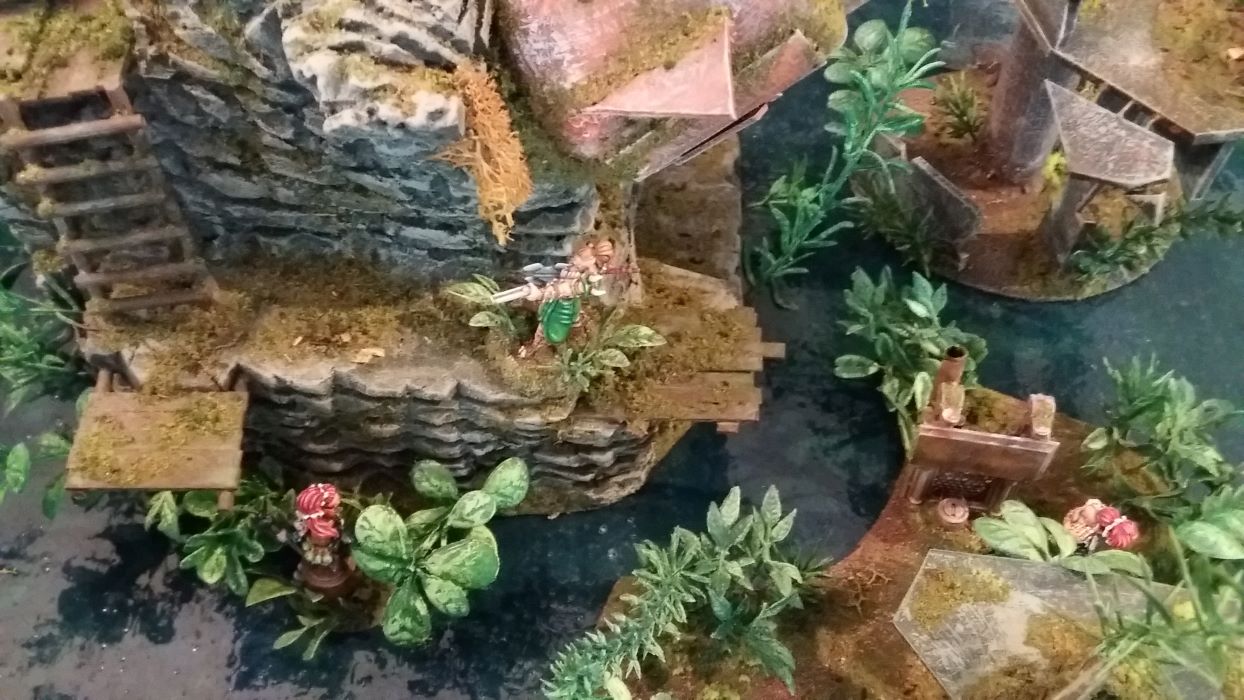 Jorra sat up, something wasn't right at all. His eyes scanned his surroundings while he tried not to move. There! Someone was standing at the cliff! Without hesitation, Jorra fired a smoke grenade between him and that person. His second thought was his sister and he tried to cover her with smoke as well, but the grenade did not ignite.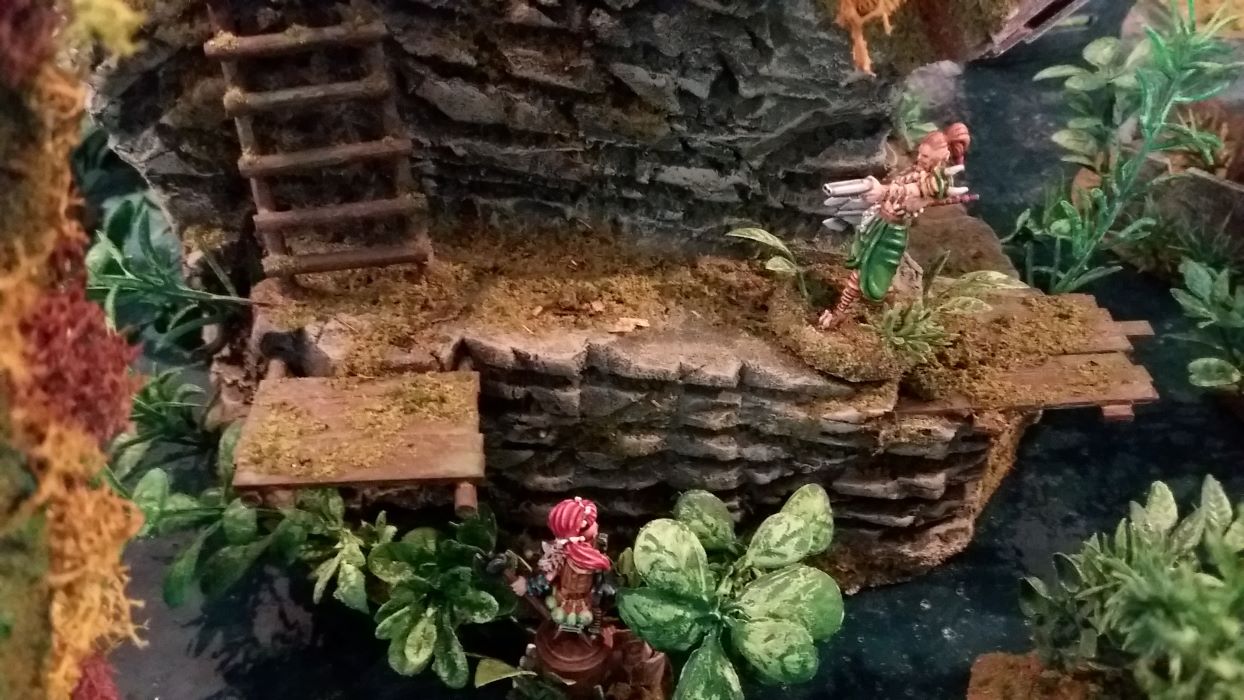 That was the sign for Aronax to charge! He run along the cliff and saw Alaya who still tried to climb up the cliff. He fired his shotgun in her direction, but the bullets hit either the rock or the water, but not her. She tried to answer his friendly greeting, but apparently her gun did not take well the swimming before. Furious she tossed it away and climbed up the cliff, ready to bury her axe in the stranger's head.

Limossk starts and continues swimming. Bluewing reacts, again a Nailed it, at deals another wound. Wishbone also reacts, but his shot scatters and misses by a whisker. Limossk attacks Wishbone, Bluewing reacts again and shoots, but Limossk could save all damage, because he had both soft and hard cover and Bluewing was also swimming. Limossk hits Wishbone with a Nailed it and deals 2 wounds. But because Wishbone has Counterattack and saves two wounds, now these 2 are dealed to Limossk. He had only one wound left and died. Wishbone jumps into the water to extinguish the fire with his last Activation Point.
Jorra reveals Aronax (Nailed it), shoots a smoke grenade to provide cover (Feat) and tries this again with Alaya, but misses. Aronax misses his shot at Alaya and she rolls a blunder, but finally can climb up the cliff with a Nailed it.
Round 3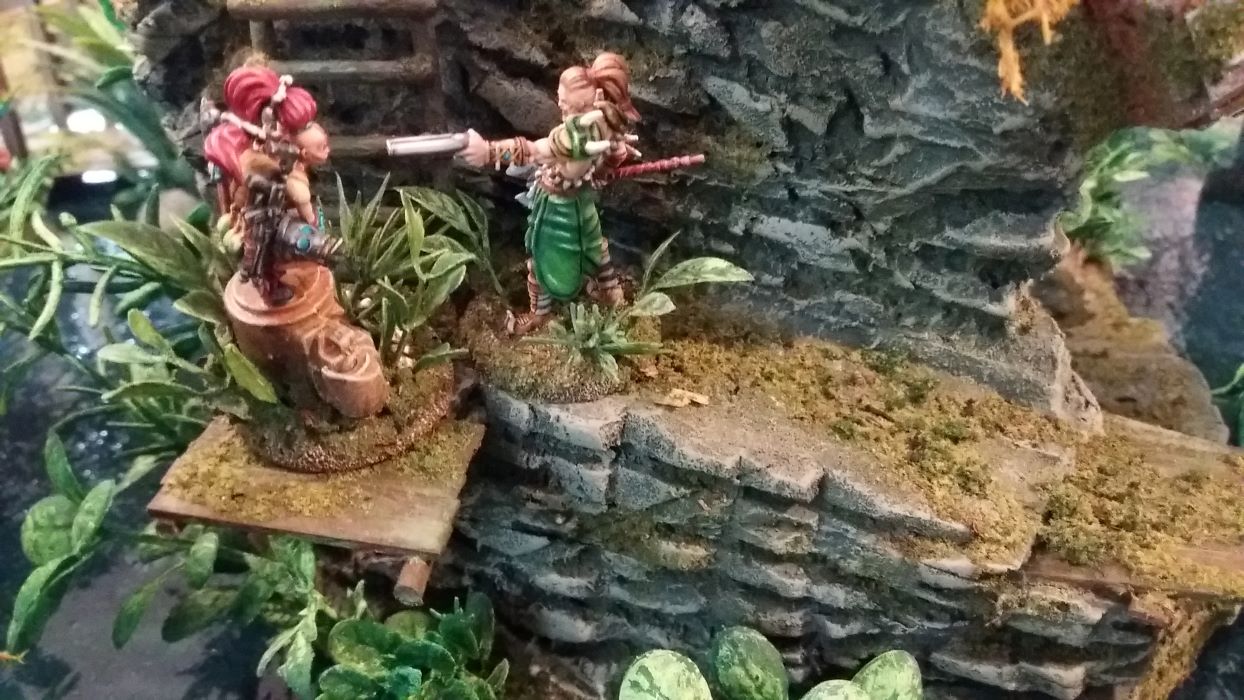 Aronax rushed towards Alaya who waited for him with a cold smile. "Damn, he is good", crossed her mind, as his axe swooshed over her head. But she was better and her axe crunched into his side.
With pain in his eyes, Aronax again went for his enemy, but missed her, as she did too. Sparks sprayed across the cliff, as both axes hit the wall.
Jorra tried to see where he had to jump, but the smoke was still too thick, he couldn't see anything!
"Swim towards the cliff and climb, I can handle this!", shouted Wishbone. Bluewing nodded and followed the orders if his leader. He tried to climb, dripping wet, and several times he almost slipped, but his hard training paid off. It took him only a few seconds and he was on top.
maskerade-dresden.lima-city.de/TheDrownedEarth/batrep/batrep01-29.jpg
[/img]
Quickly he glanced at the object, draw the right conclusions and pushed a few buttons to activate it.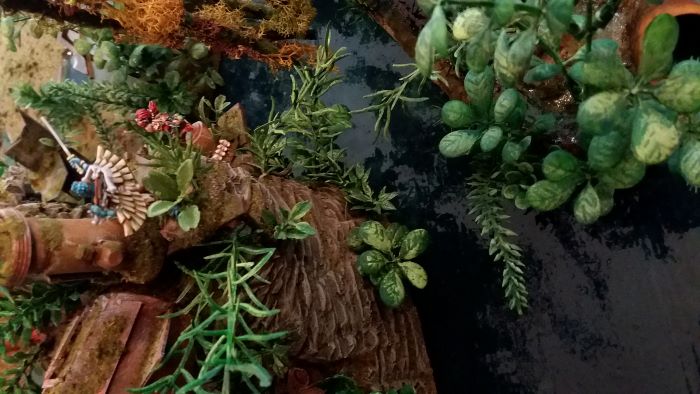 He heard fighting below him.

Aronax charged Alaya, who of course reacted. Both had a Nailed it, but her result was better and she deals 3 wounds. Both misses the next attack.
Jorra tries to jump and attacks Aronax, but fails his jump twice.
Wishbone uses Commando, gives another AP to Bluewing and activates the objective.
Bluewing swims to the cliff, climbs up and has to use Sure footed to roll again. At the top, he activates the objective.
Round 4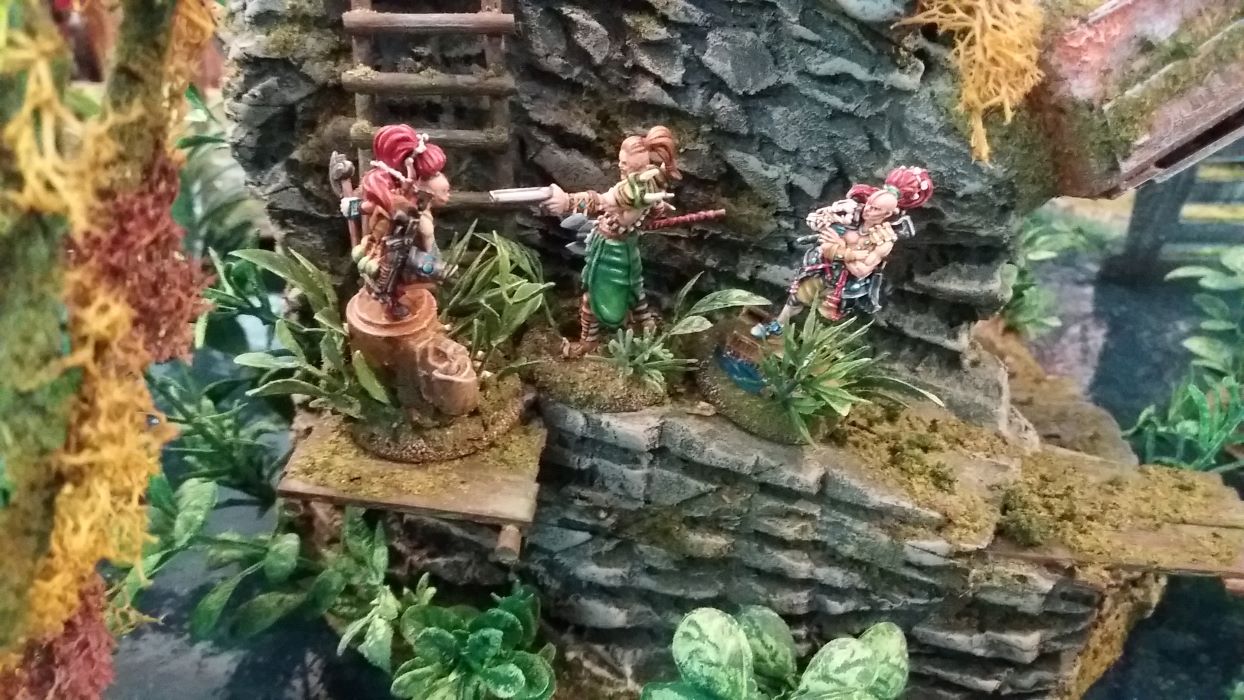 Finally, Jorra found a way, took a run-up, jumped and attacked Aronax. Without even looking, Aronax' axe shot behind him and hit Jorra in the chest. Blood sprayed strange patterns on the wall. But hindered by his own wound, the second attempt to kill the new enemy, Aronax only hit the rocks.
Alaya used this opportunity for her own attack and buried her axe in her opponent's back. With a flick of her wrist, the lifeless cadaver slided down the cliff and into the water. A short nod to her brother, than she started climbing.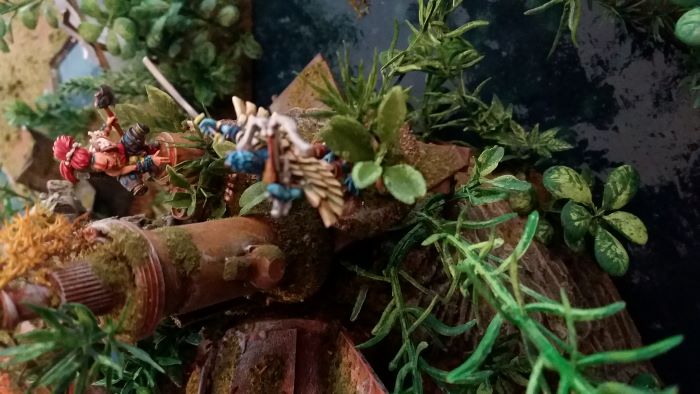 Bluewing was still amazed by the machine, so he realized to late the new danger that approached. The bloodstained Kolric-Warrior with a mad grin frightened him. Then he was hit in the chest by a mighty blow and fell down the cliff. "But… I can… fly", he thought, facing the sky, before he splashed into the water and lost his consciousness.
"Damn, now it is up to me!", thought Wishbone and tried to ignore the pain. He shot at the women who just kicked his friend from the cliff. His first shot pierced through the wooden plank and wounded her, but then his staff only emitted sparks. "Anything but that", he cursed.

Jorra finally can jump and charges Aronax with a Nailed it, but he reacts with a Feat and deals 3 wounds. Jorras next attack misses, also Aronax' reaction. His remaining attack misses too. Alaya feats while attacking Aronax and kills him with four more wounds. After that, she climbs up the latter and attacks Bluewing, whose Reaction misses. She deals four wounds, he is unconsious. Wishbone shoots at her, she is in light cover because of the wooden planks, he has a Nailed it and deals 2 wounds. The second shot is a blunder… No ranged weapon that deals any damage is in the game anymore!
Round 5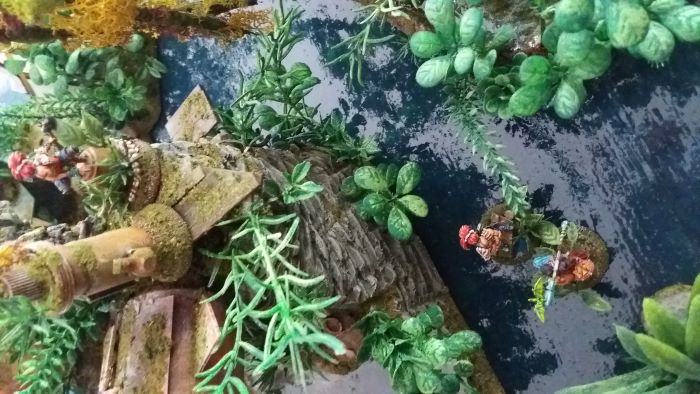 When he saw the blue cackling light above his sister, Jorra screamed in rage and anger. He ran up the wooden platform, jumped into the water and swam to Wishbone. With a mighty blow he ended the noise that disturbed the jungle. The old Dact knew well to fly way. Only the beeping of the machine that his sister activated could be heard, then it was all silence again. Well, as silent as a jungle in Ulaya can be…

Jorra jumped into the water and attacked Wishbone, who could not react (Fail) and died with four more wounds. Alaya activated the objective.
The game ends with a draw. The Bondsmen had their objective activated in round 2. The Wayfarers activated two in round four and the Bondsmen still had their first one. After round 5, the game ended.

This was a ton of fun! It is really amazing how the results of action and reaction can make a difference, because not always the attacker is the lucky one. Also, with all the jumping and climbing and swimming – shere madness what is suddenly possible with the terrain!
Limossk has been placed very unfortunately and it might have been better to send him with Alaya to the central object in hindsight. The long-distance swimming with no real cover was a bad idea.
But otherwise it was really fun! In the beginning, I often had to re-read some rules, but they are very intuitive and stuck with me very quickly. Or maybe it was because I have seen so many Let's Plays by now…
For the end, two more pictures of my Bondsmen in the terrain.